We are blessed to have Santiago Mountains close to home. Several hiking trails quickly make me feel close to nature, away from the speed and stress of my daily routine. (Note: reading this on a laptop or an iPad might help see bigger slideshow images.)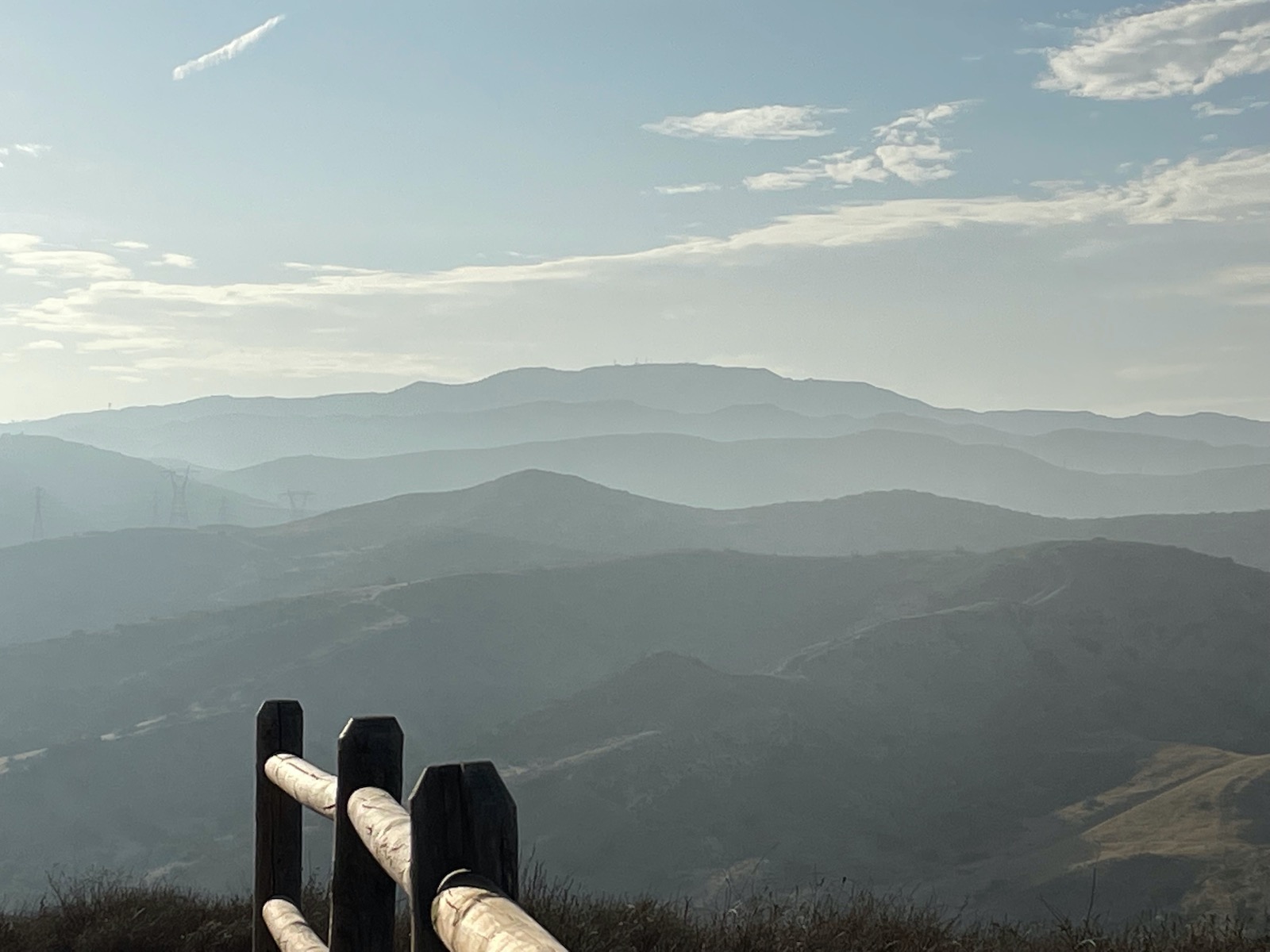 Robber's Roost
One of the highlights is Robber's Roost – the tallest point in the range. There is a beautiful view of a water reservoir and houses snuggled on one side of a mountain. It makes me feel connected to the universe around me rather than isolated from it. It reminds me that spacious awareness and universal consciousness are all around and inside, endowing us with abundance, ingenuity, creativity, and the potential to synergize with other living beings and mother nature.
There are several trails for hikers and bikers. They quickly take to the oasis of quiet and peaceful surroundings, away from the noise and hectic pace. When it rains during the wintertime, mountainsides turn to refreshing hues of green.
Morning fog brings soothing, nurturing vibes to the green mountains in the winter and spring:
The afternoon sun makes the scenic backdrop bright with the contrast of green in crisp air:
Brown color mountains create a different landscape. We are used to seeing these hues on the mountainsides most of the year:
One experience etched in my memory happened late evening last winter. The weather was overcast with rain and thick fog in the air. Sun had set, yet there was slight brightness from sun rays refracting over the horizon. On the side overlooking the Serrano street, streets and houses with lights appeared to infuse the surrounding with soothing warmth. It made me feel as if collective ingenuity and the zeal to carve out a meaningful purpose in life inspired all in the area to create and be part of something so wonderful.
An Oasis Close to Home
Seeing the trails winding through the contours of the mountains reminds me to navigate my ways around and among nature with dignity, care, and respect. Such a blessing for me to be able to lose myself in an oasis of mother nature so easily and quickly close to home! My Gratitude.
---